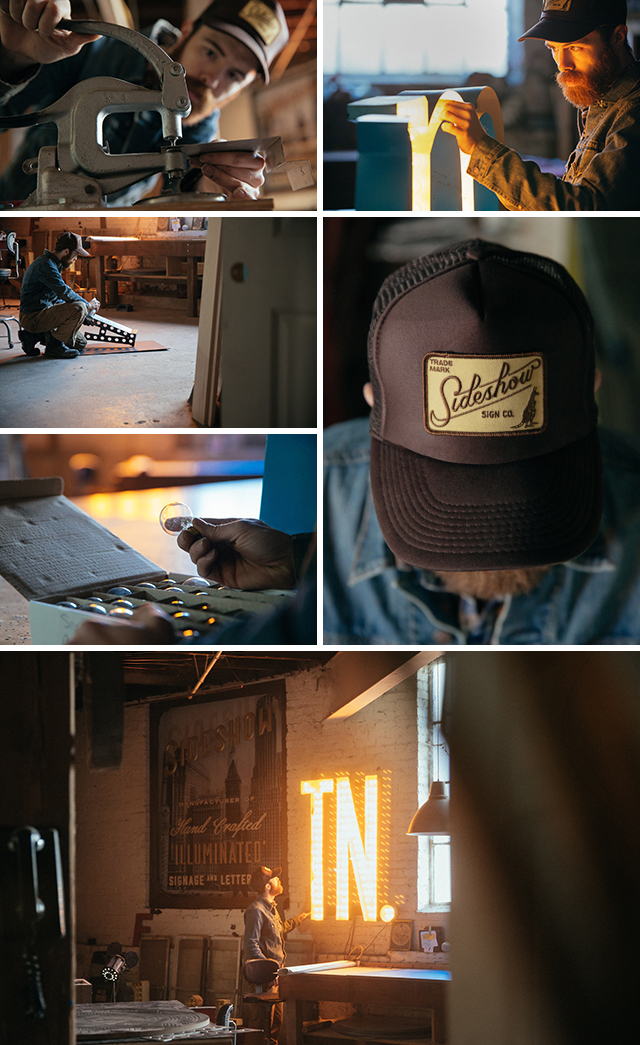 Sideshow Sign Co. started in a backyard garage in 2011, and it wasn't long until we were busting at the seams. Our friends at the Fort Houston collective turned us on to a newly-vacant space in an old hosiery mill on the southside of town. When we moved in, there was a full inch of sawdust on every surface from the rafters down. We joined forces with Southern Lights Electric, Steric Design, and AA Craftsman, and it took about a month and three dumpsters to get it tenable. We always meant to have a grand opening party, but two and a half years later, the work has never slowed down enough to make it happen.
For the last few years, we have built some of our most definitive custom work in this workshop and had the honor of sharing our space with other brilliant Nashville artisans. From here we've moved from
incandescent to neon, and worked with the broadest range of materials among any sign company in America. This winter, we start a new chapter with our next big move, a move to a space that can house our all-new retail product line as well as our custom workshop. We cannot wait to announce the next incarnation of Sideshow.
Until then, we wanted to release this video in partnership with Jonathan Chapman Photography as an homage to where we came from- our first industrial home along with one of the true characters that has helped bring us to this point, our senior fabricator, Adam "The Coon Man" Gaskill, with the omnipotent voiceover of our founder and Creative Director, Luke Stockdale. These guys are the heart and hands of this business. We are excited for the future and look forward to what's next!
Enjoy the short film, an homage to Sideshow's roots in Nashville, Tennessee.
Photographer / Director - Jonathan Chapman | JCP

Edit - Joseph McMahon
Graphic Animation - CoElement
Music - Marmoset "Stranger" by Carinthia
Sound Mixing - Nick Mihalevich