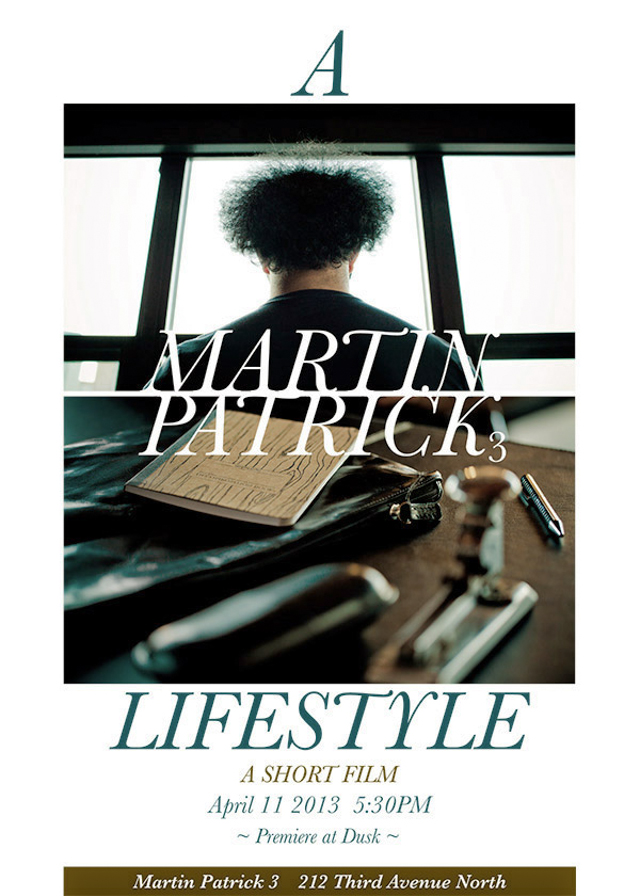 Spring is finally showing its face and we are excited to announce the premiere of "A Martin Patrick 3 Lifestyle." The short film is a collaboration between JCP and the Minneapolis based men's clothing and accessories boutique Martin Patrick 3.
The project is an interlaced venture of film and fashion that will debut at the official pre-party for the ENVISION: Artopia® Spring 2013 Fashion Show.
The event is open to the public and is being hosted by Jonathan Chapman Photographer & Director, Martin Patrick 3, and ENVISION: Artopia® Spring 2013 Fashion Show.
Thursday, April 11, 2013 | 5:30 p.m. | Video Premiere at Dusk
Martin Patrick 3 | Warehouse District of Minneapolis | 212 Third Avenue North Suite 106 | Minneapolis, MN 55401
Complimentary eats by CRAVE Catering as well as cocktails flowing throughout the event. Live music by DJ Bryan Gerrard
Drop by after work to hang with industry creatives and fashion gurus alike. Multiple creative partners who joined in the production effort will also be present. We hope to see you and look forward to sharing our latest visual collaboration.
For more information including event updates, release of teaser trailers and artwork please follow the Facebook event page at http://bit.ly/JCPforMP3Premiere
Stay tuned to the JCP blog where we will be launching teaser trailers in upcoming posts. Collaborative partners and sponsors include: Splice, Filmerkid Visuals, Flashlight Photorental, Coelement, City Pages, Ignite Models, RAW, FreeArts.org, Crave America, Rocco Altobelli Salon and Day Spa.