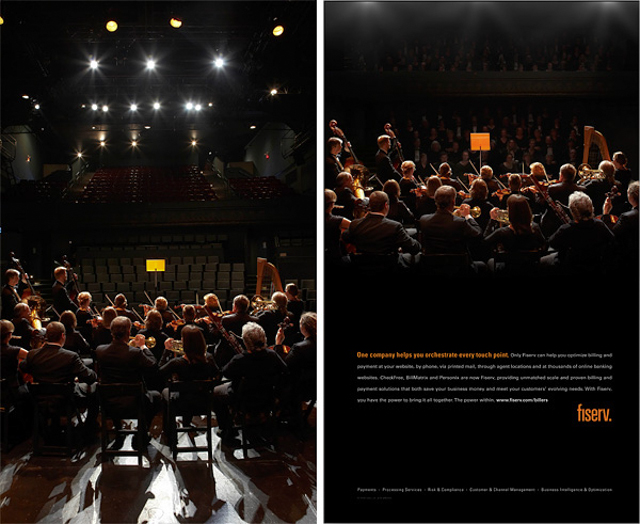 I wasn't expecting my first opportunity to catch a performance by the Metropolitan Symphony Orchestra would come about with camera in hand. Kat Dalager, of Campbell Mithun, called with a project for Fiserv "provider of technology solutions to the financial world." The shot was to fit in line with existing campaign imagery highlighting the orange square within Fiserv's logo as the "hero" in the scene. In this instance it was the music stand within the orchestra setting.
Art directed by Wendy Hanson, and produced by Humble Monkey Productions, all the elements came together quite nicely. The members of the Metropolitan Symphony Orchestra were more than generous with their time, despite it being quite warm and their being dressed in full performance attire. They even gave us a few abbreviated performances.
The last part of the shoot had the orchestra members moving out into the seats acting as symphony patrons. We shot multiple frames of them grouped together in all areas which, when layered together, provided the look and feel of a full house of spectators. Retoucher Brad Palm put the finishing touches on the ad and as you can see the before and after shots tell the story of how the final pieces came together.