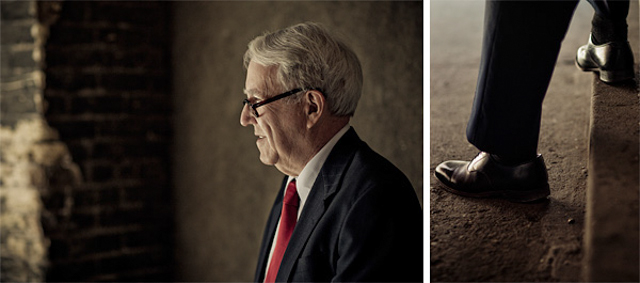 I shot this week for Barron's – a financial magazine from the publisher of the Wall Street Journal. It was my first shoot for them and I am pleased to say it was a direct result of an e-mail promotion that left my computer last week.
It had been a while since I'd shot in downtown St. Paul, and I was a bit leery of what we'd discover in terms of locations. The subject was William B. Frels, a great name indeed, who works with Mairs and Power Inc. - Minnesota's oldest, continually owned and managed investment firm.
The editor noted a historical backdrop might make sense since the company's website features some vintage imagery. My assistant and I scouted a few blocks adjacent to William's office and decided to take our subject on a little walk. We began shooting a few selected spots – starting with more standard locales leading up to the more unconventional. Our final stop was an old loading dock cut into the side of a building from around the 1920's I'd guess. It looked like somewhat of an unsavory place for an executive to spend time, however, the lighting was amazing and despite the darkness and dirt, it was nice of William to humor me as I asked him to follow my lead. We spent about 10 minutes and William's only comment was "you're the expert- I trust your judgement."
All came together quite nicely.