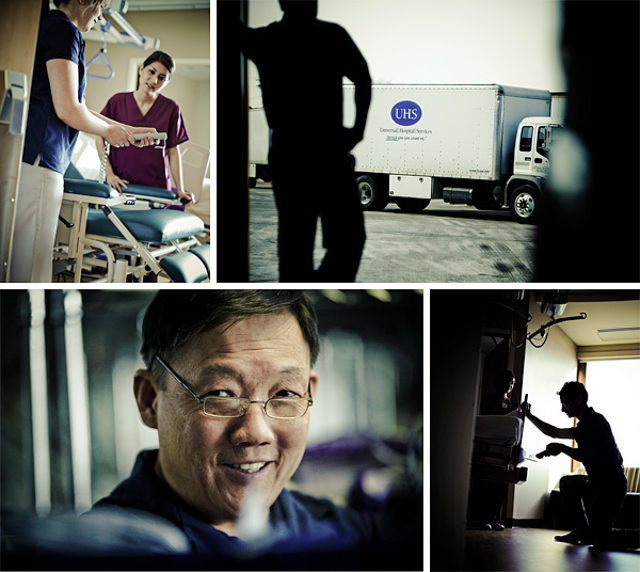 Modern medical equipment and accessories are rarely a part of most peoples' daily thoughts, however, at Universal Hospital Services (UHS) it's their focus and has been for nearly 70 years. As the country's leading supplier of outsourced medical equipment, UHS has a presence in all fifty states making sure hospitals have what they need to perform their duties. My crew and I were privy to a behind the scenes look at what goes into keeping up and supplying the medical community with the best technology has to offer during a two day photo shoot.
Working closely with the creatives at Schermer Kuehl, we set out on day one to help tell the story of the receiving, cleaning, repair and eventual dispatching of the rental equipment from one of the main warehouses in Minneapolis. The second day of shooting involved scenes demonstrating actual delivery and use of the equipment by hospital personnel in a medical setting. The next time you see a Baxter pump, IPAP, or other such equipment there's a good chance it came from UHS.
Another interesting project, roaming and collaborating with the A.D. and talent amid a varied backdrop of visual options. I found myself noticing / shooting more silhouettes than is typical. In this case they really seem to highlight / tell the story of UHS.
Stay tuned- our next post will be 100% video. The final edit is complete from the video portion of the, "Bright Lights, Metal in the City..." auto-shoot test. After a long string of e-mails and phone calls with the editor I am really pleased with not only the edit but the color / grading on the final piece...