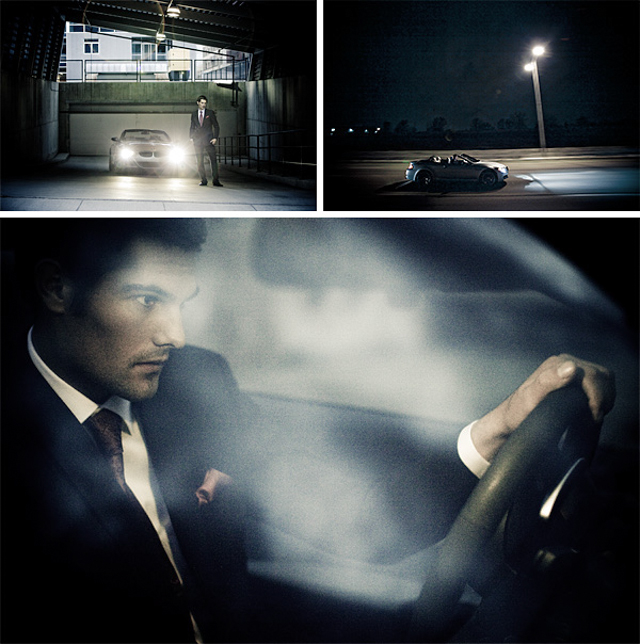 Talent at the ready, four wheels and a skin of metal punctuated with a blue and white emblem translated to quite a visual afternoon + evening in late November. The shoot was loosely storyboarded as: a model, a car, and some pre-scouted locations within Minneapolis' Warehouse district. The logistics and weather came together perfectly to shoot this project which had been brewing for some time. The vehicle was acquired via Euro Cars in Eden Prairie and Matt our talent from Caryn Model and Talent Agency. As with the Runner shoot we brought in Alex Horner once again to capture video assets alongside the stills I was gathering.
I am always working to find something new to shoot- a person, place, or subject matter that I've yet to spend time amid. This was my first foray into shooting anything auto related. I approached visually as I have other unrelated projects and am very pleased with the imagery we came away with. Thanks to the crew for hustling this one together- seems to be the trend these days and I don't foresee it changing. I guess that's what keeps it interesting...
The video portion of this shoot should be out soon - I look forward to announcing in a future blog post. For now please check out the gallery of additional stills at the archive section of my site. I am also planning an upcoming e-mail blast based on one of the shots. Keep an eye on your inbox as this will hit very soon.
We've been keeping busy and have some exciting things in the works including a new portfolio- almost all new imagery. We've had a couple of pre-showings with local buyers to get feedback on image selects + pagination. Response has been very good with only minor tweaks suggested around pagination and flow- based on color palette and image selection. We'll be ordering up the books and anticipate them hitting the streets around mid-March...