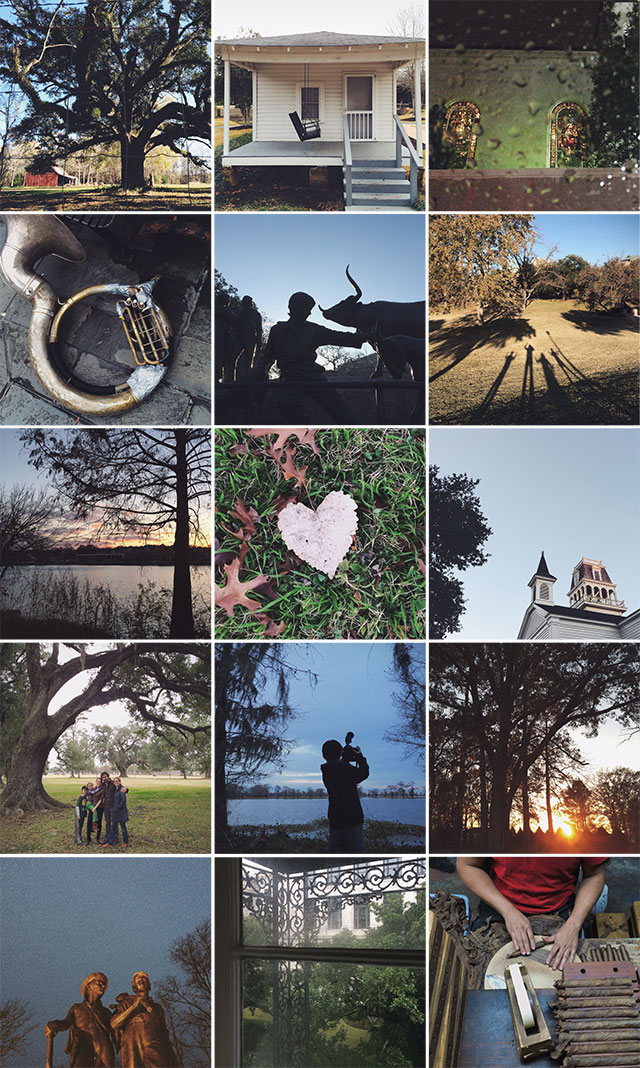 My family and I have a tradition of hitting the road every other holiday season, south bound to relax amid warmer temps and to spend time with my wife's family near Lafayette, Louisiana. This year's three week, near 4,000 mile journey certainly had its share of visual highlights. While a few of these iPhone images made my instagram feed, I did my best to keep this trip about family and taking in life at a slightly slower pace.
The South, specifically the route we took follows the Mississippi on down to New Orleans. The collage is a map of sorts, offering a glimpse of time spent exploring places such as Hannibal, Missouri home of Mark Twain, and Tupelo, Mississippi to explore the childhood home of Elvis Presley. Further south we always carve out an extra day or two for New Orleans and the French Quarter - so much to see amid the winding streets, colonial architecture, and seemingly endless energy. Our final drive took us two hours east of The Big Easy to our destination city of Grand Coteau which lies in the heart of Cajun Country. After about a week with extended family and holiday celebration we set off west for Austin, Texas for the final leg of our trip. It was quite an amazing experience all around as this was our first time in Austin as a family; enjoying the people, sights, food, and certainly the weather. In addition to roaming the city in all directions, I managed to carve out time to shoot a couple of personal projects that I look forward to sharing in days ahead. Both subjects were small businesses that are thriving on trades of the past, one a taxidermist and the other a shop that specializes in custom denim apparel.
Here's to the New Year and continued adventure that life brings to all of us who spend time in and around the presence of a camera. I can't thank all of our supporting partners enough including clients, crew, and of course the subjects who let us into their lives and ultimately make all of this possible.