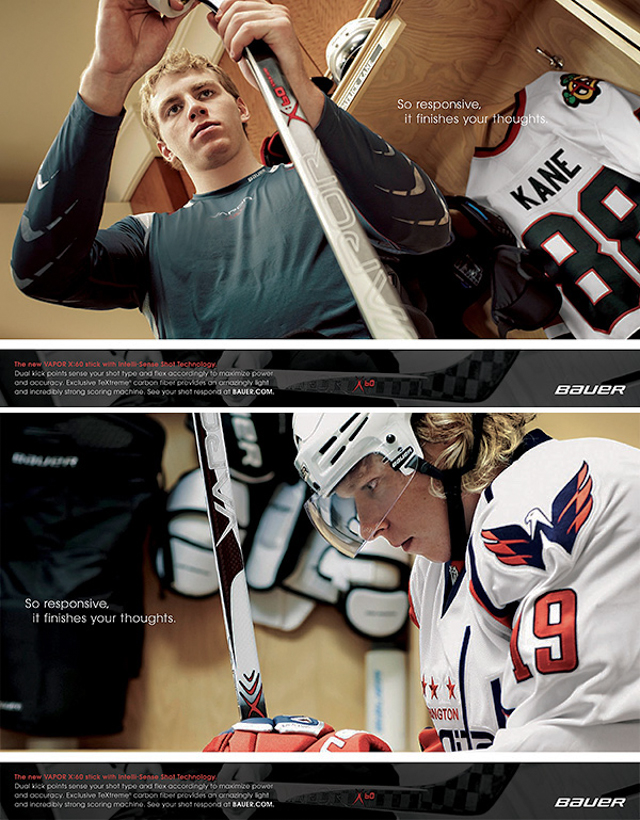 "You do dat, you go to da box, you know, uh, two minutes by yourself, and you feel shame, you know, and then you get free." - Denis from SlapShot
Final ads from this summer's Bauer shoot via Olson were just received - a couple of selects are featured below. The ads were shot in Atlantic City, NJ this past July at Bauer's "2009 Athlete Camp." Bauer brought in over 20 top NHL players they are partnered with for two days of apparel / product shooting both on and off the ice.
I spent the first of the two days shooting in a locker room environment- fabricated inside a hotel conference room. Five lockers were taken from the Philiadelpha Flyers locker room and trucked to Atlantic City for this shoot. It was tough to visualize how this would look in our early pre-pro meetings. Once on site, all came together quite nicely. One of the locker room scenes I was tasked to capture involved atheletes working with (taping, flexing, etc.) Bauer's latest addition to the stick market - the Vapor X:60.
Check out Bauer's new site- it features dozens of shots from projects I've worked on over the past few years. If you care to go deeper check out the Bauer Blog, specifically the November 16th post where you'll see behind the scenes footage from this summer's shoot.
Happy holidays to all who happen upon the blog. Thanks for checking in from time to time and of course best to come for all in 2010...