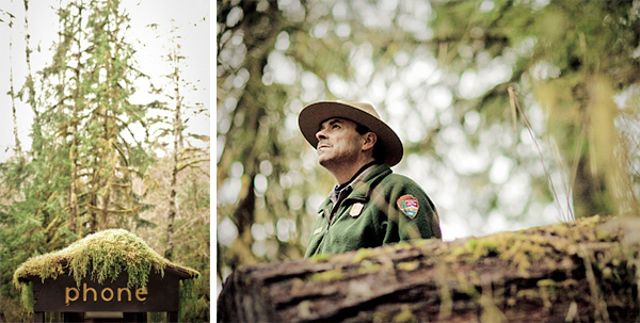 "These 'Twihards' wander, wide-eyed, down trails in the misty Hoh rain forest under giant trees festooned with moss, 'trying to see what Bella saw." - Olympic National Park ranger, Jon Preston
Today's post is part III in our series of previews for the upcoming launch of the website for the collaborative venture - invoko, I am pleased to share another glimpse of our Seattle experience; this time a sliver of our time spent in Olympic National Park. We were fortunate enough to hike alongside Ranger Jon Preston who described in detail the abundance of flora and fauna in the area as we strolled amid the lush environs. The area is designated as 95% wilderness and stretches 73 miles along the coastline as a completely protected National Park. I am still in awe of the vibrant greens that surrounded us - fresh scents of forest mixed with the salty Pacific Ocean mist.
Tourism in the national park is way up this summer due to the filming of Stephenie Meyer's Twilight in the nearby town of Forks. According to a New York Times piece, "30 percent of hikers are there to immerse themselves in the Twilight landscape (and, presumably, to catch a glimpse of a vampire of their very own)".
Ranger Preston said that he was contemplating putting together a "nature program on bloodsuckers (mosquitoes, flies and lampreys)."
Vampires or mosquitoes, it's well worth a visit if you are in the Seattle area and can spare a day away from the city.