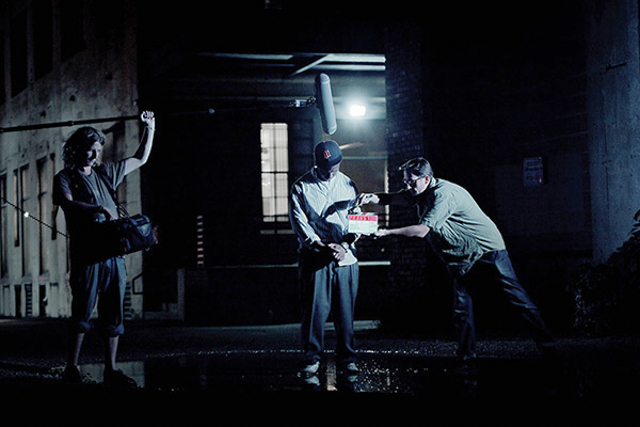 "I sit on the clouds, and lyrically outgrown the throne..."- MaLLy
Wordsmiths abound and let us into their world through their written works. Often times the power of these lines come to life in the form of the spoken word. Saul Williams is one of the more well known contemporary spoken word artists, which provided inspiration for us to find a homegrown version here in Minneapolis to profile. Through our colleague Jules Ameel we were able to collaborate and partner with local, up and coming rapper MaLLy to be our spoken word master for the latest motion project "Once We're Kings."
In his own words he explains what it was like to be a part of the project.
"I was pretty excited to shoot this video in Minneapolis because it's my hometown and a place I frequent for recreation. Currently, I'm finishing my upcoming album titled, The Last Great. The project will be produced entirely by The Sundance Kid and is slated for spring release."
We scouted a few areas in the more industrial sections of Minneapolis before settling on a back street location in the north loop. As daylight faded into night and MaLLy started to warm up, we lined up our first shot and started rolling camera and audio. MaLLy never missed a beat and lit up the night with his stylish a cappella rhymes.
"The production was intense, very detail oriented and very fun. Everybody involved in shooting was professional and that's pretty apparent in the final product! The scene is dark, relentless, and very bleak. I thought the entire ambiance fit with the production and verse I delivered."
As always we are only as good as the people we surround ourselves with. On that note, a big thanks to our crew who are represented in the the credits, and of course all the efforts of MaLLy. For the latest on all things MaLLy check his Facebook page. Visit the following link for detailed information regarding tour dates and destinations.
We have just returned from a 2+ week project abroad for McDonald's and are working hard to get our
bio-rhythms back on track here in Minneapolis. What a year it's been. 2012 has big shoes to fill. We're looking forward to the new year and all the upcoming possibilities.
Happy holidays and best to come for all in days ahead...