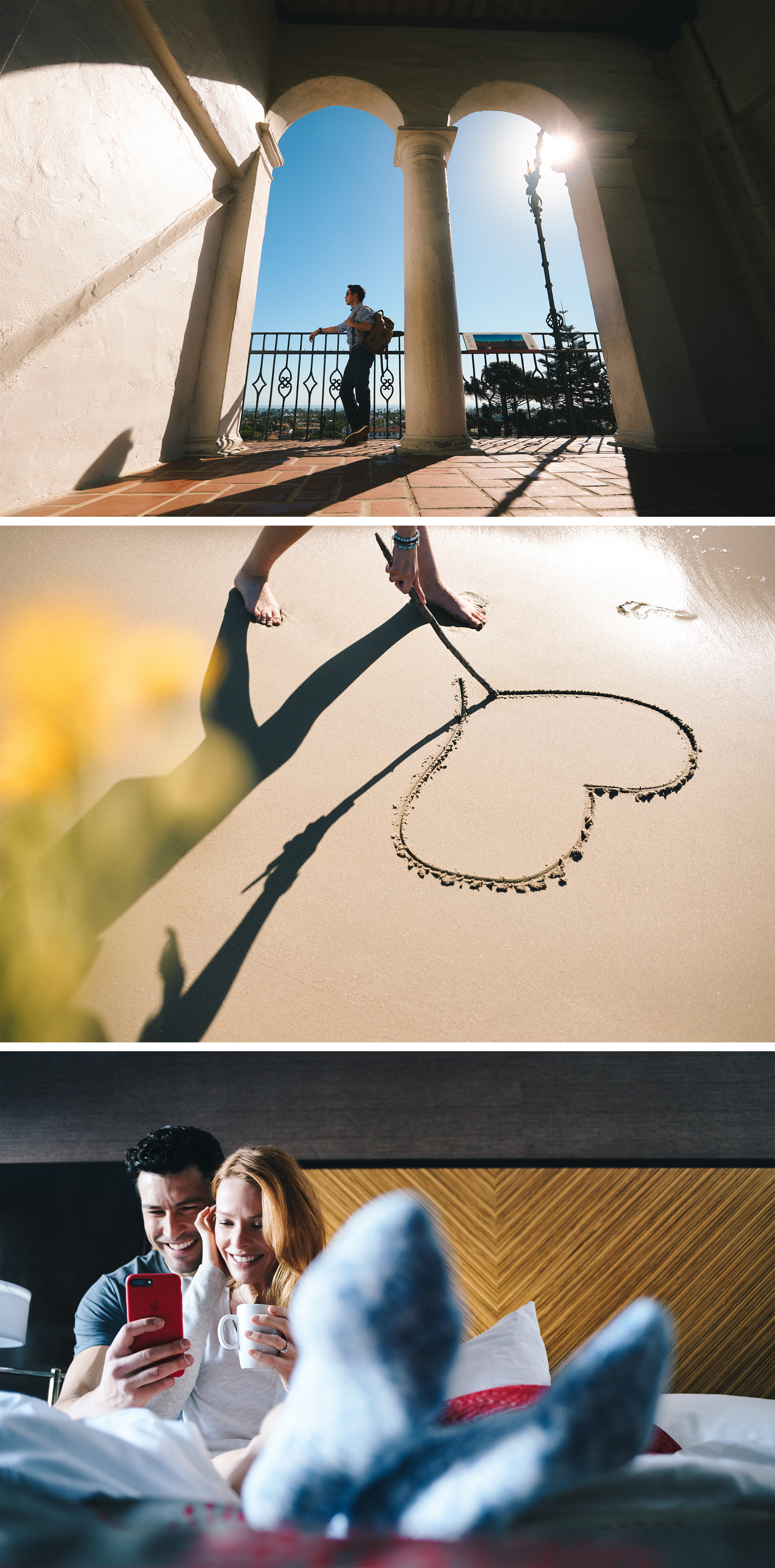 Production – Ramada Worldwide, "Say Hello To Red" Campaign
Agency – Little
Locations – San Francisco, Sausalito, Santa Barbara, and Newark.
Weather – San Francisco cloudy and Santa Barbara sunny.
Backdrops – San Francisco Intl Airport, San Francisco Chinatown, San Francisco and Santa Barbara city streets, corporate buildings and plentiful postcard vistas, including a trip to Sausalito harbor. Also, requisite Ramada hotel rooms and lobbies decked out in the latest furnishings.
Cameras – (3) Canon 1DX MKII, (1) Canon 5d MKIV
Lighting – Arri Sky Panels, Area 48, Fiilex P360EX kit, diffusion panels, mobile / tablet screens, and as always, as much natural light as we could channel. Chinatown's hanging laterns added a unexpected element of surprise and wonder amid our after dusk shooting.
Talent/Subject – Leisure travelers, business professionals, and hotel staff.
Styling Highlights – Ramada hotel room in Santa Barbara was updated specifically for the shoot.
Brand Tag – "Sample The World With Ramada"
The Unexpected – Talent flew from San Francisco to Santa Barbara with the crew so they could capture authentic moments and create a sense of 'personal space'.
Set Surprise – Renting a municipal city bus for a few inner city laps.
Parting Creative – (3) :15 TV spots, (1) :30 spot, and a library of still imagery to support the campaign.
Hands on Deck – A mix of Twin Cities, LA, SF Bay, and NYC locals.
Crew High – Capturing video and stills of the belly of planes arriving at LAX. Craft service and lunch was the In & Out Burger a stone's throw from set.
Edit/Motion Graphics – Joseph McMahon and the Little team.
Color Grade – Nice Shoes / Oscar Oboza.
Music – Original composition by LA based artist Joey Verskotzi.
Production Credits – Jaye Peterson, Ian Davies, Charles Youel, Stephanie Madeja, Paula Gren / The Gren Group, Tanya Silver, Jill Byrlev, John Fontana, Nicolas De Miranda, Patrick Meehan, Kyle Moe, Chris Worlow, Justin Silvis, Ashlee Ellert, Brian Raphael, Kai Brabo, Kristin Elshout, Heather Sanky, James Conkle, David Ranghelli, Brian Sachsen, David Maderich, Shelby Silvia, Young-Ah Kim, Paige Grahm.