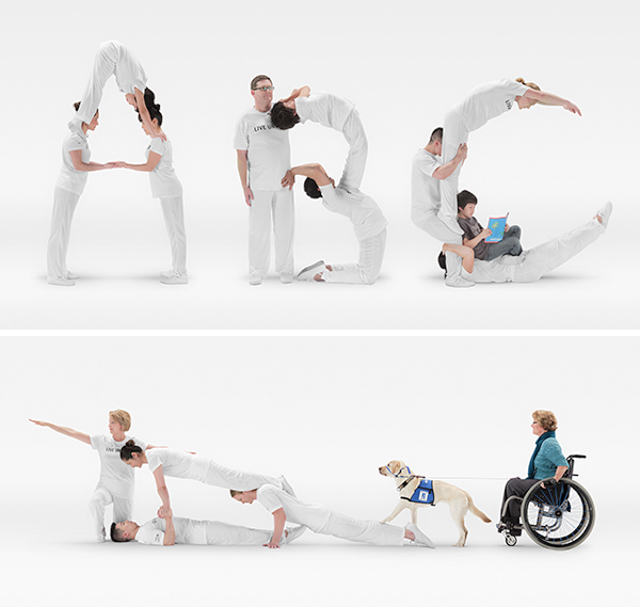 TV Spot:
Behind the Scenes Video: -->
The name has changed several times since 1887, but the idea of fundraising and giving has remained the same all along for the United Way of America. Through these efforts, they have been able to focus on select issues in diverse communities reaching into the areas of education, income, and health to name a few.
Earlier this Spring we were brought in on a still and motion project by Campbell Mithun to help create visuals for the 2012 United Way campaign "Live United." We worked closely with the agency to refine the approach involving the talented performers at Circus Juventas in partnership with the United Way. From the beginning the concepts were very literal in representing the ways in which the United Way helps out in the community. The instructors at Circus Juventas provided us with their flexibility and strength to form and hold the shapes of the "A, B, C's," an outline of a house and even a ramp to help illustrate their commitment and involvement. The final creative utilized the stills and video we created to help promote the collaborative nature of the United Way and the great work they continue to do in the community.
This was an exciting project on a number of levels. Shooting took place over two days, one week apart. This added some challenges as far as time required to build and strike our set. Lighting the scene, on location at Circus Juventas, required the combining of two 12' seamless backdrops as well as an elaborate lighting rigging, designed and engineered by local gaffer, Dave Underhill. As this was a still + motion based shoot we used continuous lighting vs. strobe. Motion visuals were shot on the Canon C300 which proved an amazing camera for it's low light shooting abilities for both standard + slow motion capture.
Above are the outdoor, billboard visuals, the finished :30 tv spot, and be sure to check out a behind the scenes video of the production created by the internal video team at Campbell Mithun.